Paintless Dent Removal
The Results Are Truly Amazing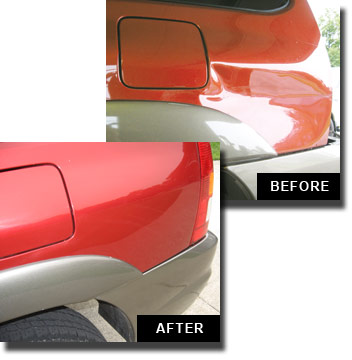 Dent Removal Without Paint
We return automobiles to pre-loss condition without painting. Conventional body shop repairs require welding, grinding, fillers, and of course paint! We simply push it back out!

Half The Cost
At a price that's an average of 50% less than a conventional repair, we wouldn't even meet most insurance deductibles, so there's no need to file a claim. Another advantage is how efficient it is. What would take a conventional repair a week, would only take us a day or less.
Auto Glass Repair & Replacement
We offer professional auto glass repair and replacement. Auto glass is tempered, or heat treated, unlike plate glass. It breaks in tiny pieces and often makes a mess when broken. Our professional glass installers will clean up the mess and replace your glass whether it is the windshield, back window, or side window glass.
Guaranteed Work
All repairs are guaranteed as long as you own the vehicle. Whether you have a minor door ding or a basketball size dent in your fender, a cracked windshield or a broken side window, we can quickly help you forget it was ever even there.